The Woodwards
Welcome to the Woodward web site, a collection of documents (if you can dignify some of them with the term) related to R. Carey Woodward Jr. and his immediate family. Like 99.9% of the Web, this is a work in progress (it most recently progressed in June 2012), so please forgive any rough edges.
Who are these Woodwards?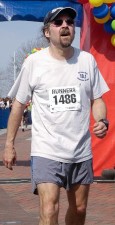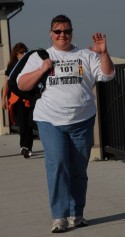 Carey (left) is an associate professor of physics and astronomy at the University of Wisconsin--Fond du Lac. Melanie (right) is a medical claims processor at Anthem Blue Cross/Blue Shield. (Both pictures are from a run/walk in Oshkosh in April 2009.) Living with them in their 92-year-old house in Fond du Lac, WI are a dog, three cats, a varying number of fish, and sometimes a child or two. They enjoy walking, biking, and geocaching, and spend way too much time on facebook; Carey is also a runner, singer, a Morris dancer, and a homebrewer. They are both very active at St. Paul's Episcopal Cathedral.

| | |
| --- | --- |
| Carey's daughter Annie is 23 years old, and is a recent graduate of Skidmore College; she lives in Cambridge, MA. (This photo is from her prom in spring 2008.) |   |

| | |
| --- | --- |
|   | Melanie's daughter Laura Killberg is 22 years old and is a recent graduate of UW--Stout. She lives in Madison, WI, where she works at Barriques. (Photo is from fall 2007.) |
| | |
| --- | --- |
| Carey's son Trip is 21 years old and will be a senior at Coe College in the fall. His interests include Morris dancing, playing the flute, and electronic gaming. (Photo is from high school graduation, May 2009.) |   |

| | |
| --- | --- |
|   | Carey's parents, Roland and Virginia, live in Richmond, VA (where Carey grew up); the picture of them to the right is from a vacation during the fall of 2005. (Carey's sister Allin also lives in Richmond; his brother John lives in Atlanta with his wife Kristin.) |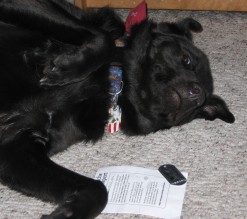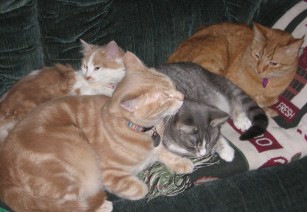 Owen [left] is a black lab/something-or-other cross (we're guessing collie); he's about 70 pounds and past his tenth birthday, but still thinks he's a puppy. From left to right, our cats are Libby ("Butterneck"), Mike, Joon ("Junebug"), and Max. Max (who now lives with Laura) loves to chew electrical cords (and hair braids, when he can get them), while Mike is happy just to sit in laps and eat. We found Libby and Joon as kittens on Wild Goose Trail last spring; Libby loves attention (and paper), while Joon keeps to herself (but still manages to out-purr the others).

What else is here?
---

This page was last modified on Wednesday, 13-Jun-2012 15:53:34 CDT.
If you have any comments on this site, drop Carey a line at webmaster@thewoodwards.net